SmithCo has had a side dump trailer repair shop nearly as long as the company has been in existence. When it first opened, the shop mainly installed wet kits on customer trucks for its side dump trailers. Now, the repair shop performs work on tarp systems, tub extensions, DOT inspections and more, in addition to hydraulic wet kit installations. It's also the last stop for many new trailers that are having final items installed before delivery.

Repair Shop Day-to-Day
Typically, two staff members run the SmithCo side dump repair shop. In addition to repairs, these employees maintain SmithCo's fleet of flatbed trailers that transport materials to and from the factory. Most repairs are made at the shop, but occasionally repair shop personnel will travel to customer locations to perform warranty and customer support work.
The most challenging repair jobs we see are trailers that have been in an accident. There are many details to consider to ensure a proper repair. From accident repairs that require removing and replacing frame rails to those that need frame structure replacements while re-using the original suspensions, we've seen it all. With SmithCo, you can trust that your trailer will be repaired the right way, no matter how much work is needed.
Making Your Appointment
The repair process begins with a customer calling to schedule an appointment. This way, we can be sure we will have the necessary materials needed on hand. The customer will typically drop off the truck/trailer before the scheduled repair date. Once we complete the repairs and corresponding paperwork, the customer can pick up their item. We are always happy to review the repair with you or instruct you on proper use of the new or repaired equipment.

Our shop can do nearly any type of trailer, or non-motor/transmission-related truck repair work. We also work on any side dump trailer brand, not only on SmithCo trailers. We prefer to work on side dump trailers, but we make repairs to other types of trailers as well. We cannot provide frame straightening, but we do perform trailer alignments. The most common jobs completed in our shop include wet kit installations and tarp system installations and repairs. A typical job can take anywhere from one day to several weeks to complete, depending on the request.

The SmithCo Difference
The fact that SmithCo has a repair shop as a manufacturer is unique. Most manufacturers will not perform service or repairs at the manufacturing site. Our repair shop, like a lot of what SmithCo does, was started due to a customer need. The scope of work performed in the repair shop has grown to keep up with client demand. To date, our dealer network can also provide these types of services, but SmithCo maintains its repair shop to keep meeting customer needs as they arise. It all goes back to our commitment to providing the customer with anything they need to be efficient and profitable.
To ask a question or make an appointment in our repair shop, please call 800-779-8099. And remember to check out our support guides.
---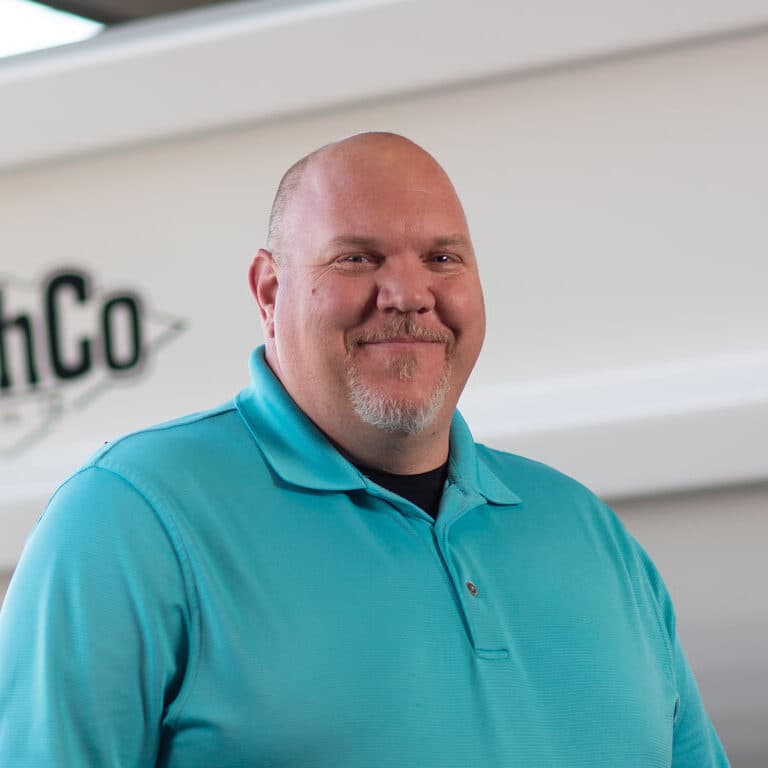 Blog Author
Chad Oldenkamp
Used Trailer Sales, Parts & Service
Chad has been working in the side dump trailer industry since its infancy in 1995. He started at SmithCo in 2006, starting out in parts sales before expanding to his managerial role blanketing parts and service, warranty, used trailer sales, purchase assist and customer support—a man of many hats! In his free time, he enjoys fishing, golfing, and spending time with his family and two English Bulldogs: Amos and Andy. An avid Nebraska Cornhusker fan, you can find him on fall Saturdays cheering on his football team.