SmithCo side dump trailers are built to last, but if a customer should need a repair or a new part, the Parts & Service department is here to help. Since we are the manufacturing location for SmithCo side dump trailers, our Parts & Service department is set up to satisfy the needs of SmithCo trailer owners/operators first and foremost. We stock the majority of the parts used to build your trailers and we can do anything from brake jobs to accident repairs on your SmithCo trailer.
Service that is Second to None
As the trailer industry evolves with newer componentry, SmithCo is dedicated to providing the latest technology available. We keep our Parts department well stocked to service your needs. Whether you contact SmithCo via phone, email, or in person, we will work to get you the parts, part information, service, or technical support you require to get you up and running as quickly as possible. First, we work hard to keep our dealers updated and stocked with the most commonly needed parts for service and repairs to your SmithCo trailer. If we have a SmithCo dealer in your area, we will get you in touch with them to source your items. We also drop ship items directly from the factory to our dealer's customer with no additional shipping or handling charges.
Because we are the OEM (Original Equipment Manufacturer), some suppliers do not allow us to sell parts aftermarket. Working with others not affiliated with SmithCo can result in you getting parts that are close in part number or looks, but are not the same as what was used to build your trailer. If that's the case, we will work with you to get the aftermarket part numbers required for you, so that you can try to get them ordered from another supplier in your area.
And if you cannot find a local source for what you need, we offer many shipping or pick-up options to get items delivered as quickly as possible. We try to ship as many orders as we can the same day. For specialty orders, like large orders or special parts, we are up front about possible lead times.
Our service department has added personnel in recent months and continues to perform wet kit installations and trailer repairs as requested by our customers.
Engineering and Production Support Available
When a customer or dealer has questions about parts or service, we quickly connect them to the right person for help. We can also bring in extra assistance from our engineering staff or a production technician if needed. For example, we have had people convert trailers to lead units to pull a pup, add axles and suspension to trailers, and in a few cases even lengthen frames and move their tubs. These projects take quite a bit of research on our part to make sure the customer gets the right parts as well as the education to do the projects safely and within the limits of their trailer.
Durability Speaks for Itself
There's no job too big or too small and no trailer we won't try to help with. SmithCo Parts and Service was recently able to help a customer repair a trailer from fire damage. We had to completely gut the trailer of its plumbing and wiring, repaint, and then re-plumb & wire the unit. After installing new fenders that had melted in the fire, the trailer looked and operated like a near-new unit.
While progress means change, SmithCo continues to try to keep in-stock items for older model trailers so we can keep our customers running. Recently we were contacted by a customer who owns the 46th trailer SmithCo ever built back in 1995. He had just bought the trailer from a sale and needed information on the materials we used for the build in order to perform some repairs. We were happy to help him get what he needed.
Unlike some other manufacturers, SmithCo keeps in mind customers with older units when re-designing portions of the trailer. Our main components to make the trailer operate (like cylinders, pivot bearings, cylinder pins, and hydraulic components) have been the same since the early 2000s model year trailers.
We strive for SmithCo's service after the sale to be second to none and know that our commitment to service means we have customers return again and again to buy our trailers.
Want to know more about how SmithCo can help you find a part or get your trailer serviced? Get in touch, and we can start learning about your specific needs. Give us a call at 800-779-8099 or email us at sales@sidedump.com.
[Articule updated from December 2020]
---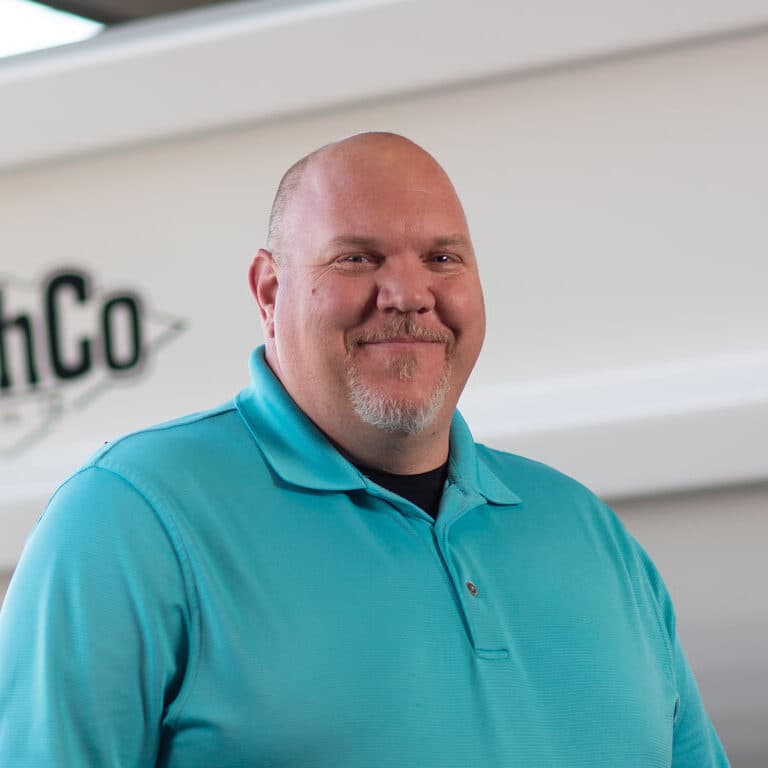 Blog Author
Chad Oldenkamp
Used Trailer Sales, Parts & Service
Chad has been working in the side dump trailer industry since its infancy in 1995. He started at SmithCo in 2006, starting out in parts sales before expanding to his managerial role blanketing parts and service, warranty, used trailer sales, purchase assist and customer support—a man of many hats! In his free time, he enjoys fishing, golfing, and spending time with his family and two English Bulldogs: Amos and Andy. An avid Nebraska Cornhusker fan, you can find him on fall Saturdays cheering on his football team.