SmithCo engineers design more side dump trailers than anyone. The reason is simple: we can customize trailers for whatever and wherever you haul – to exactly meet your needs.
Side Dumps Solve Many Issues
The first things most people want to know when considering a side dump trailer is how much the trailers can haul, how well they will work for a specific material, and if side dumps are proven within their industry. Once we answer those questions, many engineers looking at using side dumps for the first time also want to know that the trailers are safe and reliable. The answers are yes and yes.
Side dumps solve many of the common engineering problems found in other types of trailers. Our side dumps are watertight, so many who have leaking end-dumps call us looking for something better. We often receive calls from heavy haul sites looking for a safer, more efficient solution to end-dump trailers. After customers take delivery of their first order and they see how well these trailers perform in action, the next call we usually receive is to reorder more trailers.
Our Process is Designed to Fit Your Needs
We make sure our customers have the right trailer to do the job, so every trailer is designed and built with a specific use in mind. SmithCo has a full design team, and we assign a dedicated engineer to lead each project, but depending on the complexity, our entire engineering department may be involved. Our staff works with engineers and site managers at all steps in the design process, whether they have lots of questions, want to be involved in brainstorming a new trailer design, or just want us to present them with our final design; it's all good with us! We will build multiple axle configurations and tub designs that other manufacturers don't offer. We customize work lights, trailer controls, specific equipment and numerous other options regularly. We also assist customers with Failure Mode and Effects Analysis (FMEA) for safety and risk assessment. Our customers appreciate that our engineering support is included in the trailer price without separate charges.
Customers Say SmithCo Side Dumps Just Work
Our customers often tell us that they trust our design, which is why we build more side dumps with more variations than anyone. Our customers also approach us for new designs because they know we do more custom engineering than any other side dump manufacturer. They know our product will work right, last a long time, and that we are dependable for meeting deadlines. We understand that downtime on a job site equals lost money, so we do everything we can to deliver a great product, on time, every time.
Our secret to success is to ask a lot of questions so we understand exactly what you want and what you need the trailer to do. What material is being hauled? In what conditions? In what states? Guided by your answers, we build a trailer that is safe, reliable, legal, and will do the job for years to come.
Give us a call or schedule a meeting with us. We are happy to sit down and talk about the benefits of side dump trailers and how our designs will work for you.
---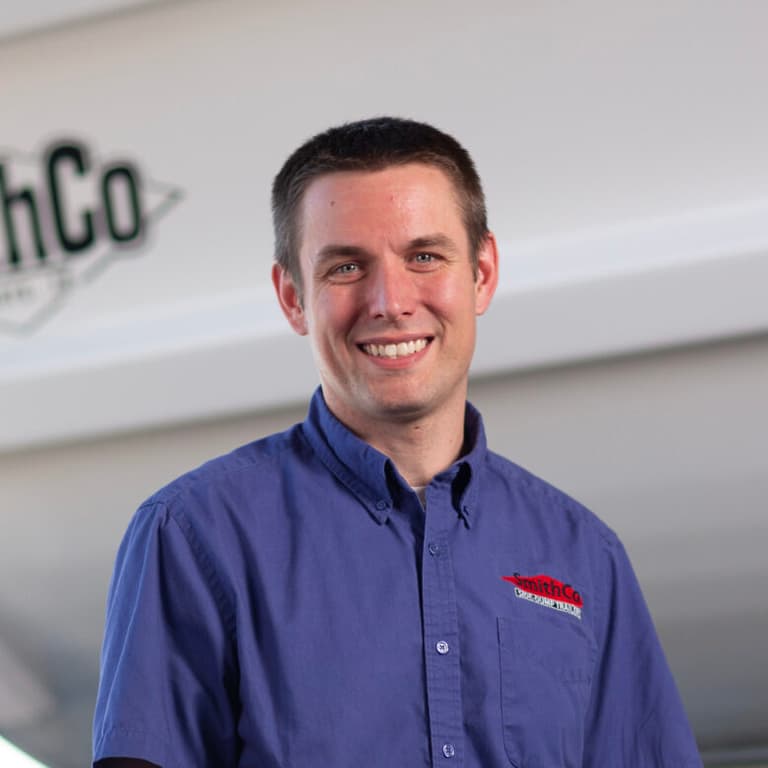 Blog Author
Dan Dohman
Engineering Manager
Dan Dohman leads the SmithCo Engineering group. Prior to joining our team in 2018, he held a wide range of engineering responsibilities including quality and manufacturing engineering, R&D and product development. Dan holds a Bachelor of Science in Mechanical Engineering from South Dakota State University. For over 13 years, he has brought a keen understanding of matching customer needs to innovative engineering solutions. When not at his desk, Dan enjoys spending time with his wife and two young sons, leading Bible studies, exercising and going to dirt track races.