When you're hauling and dumping with a side dump trailer, here are a few basic do's and don'ts to keep your hauling safe and efficient.
Do set the stage correctly for your dump.
Ensure that your dump area is clear of machinery and personnel. Then determine if the site is at an appropriate angle. Side dumps are more stable than other types of trailers, so sites don't have to be perfectly flat, but dumping on a steeper angle could cause problems. If you're stockpiling, turn the tractor to 12 degrees toward the dumping side before activating your switch to dump the load.
Do check your latches.
When using a side dump, make sure that both of your dump-side tub latches are closed, and make sure the latches are open on the side you're dumping away from. Failure to close the dump-side latches could allow the tub to slide or even fall off the trailer.
Do set the right speed when you're windrowing.
Identify where the material is to be placed, and adjust your speed to determine the amount of material you put down. A slower speed means a taller and wider pile, whereas a faster speed means a thin line of material. Windrow up to 15 miles per hour.
Don't forget to fully remove and store your tarp before dumping.
It sounds simple, but forgetting to take the tarp off your load before dumping can rip the tarp, or even cause the tub to tip. Not to mention the obvious problem of your load not dumping. SmithCo offers an optional tarp lockout feature, where the tub won't operate until the tarp is open. If your side dump doesn't already have a tarp lockout feature, check with your dealer or manufacturer about adding one.
Don't stop the dumping process in mid-cycle.
Don't get spooked when dumping sticky material. When stockpiling material that is not free flowing, you might be able to feel the trailer leaning and it may feel uncomfortable. You might be tempted to stop the dump when you start to feel the material hesitate. But that's a mistake. Once the material starts to stick in the tub, stopping midway could potentially cause the trailer to tip (one of the few situations in which a side dump can potentially tip). Keep the momentum going in your tub and let gravity do the work.
Don't dump the air in the suspension.
Unlike other dump trailers, there is no need for the air in the suspension to be dumped prior to dumping the load. Side dump trailers are designed to dump with the suspension fully aired up.
Don't forget to disengage your PTO.
Failure to disengage the PTO (power take-off), after completing the dump cycle, could cause damage to the PTO and pump on the truck. After disengaging the PTO, toggle the control switch a couple of times to relieve hydraulic pressure on the trailer.
Don't get out of your cab.
Side dumps are designed to be operated fully from inside the cab and well as clean out fully without extra work. Don't feel the need to get out of your cab to manually empty out your side dump—let our tub slap do the work for you.
More questions about do's and don'ts with your side dump trailer? Get in touch, and we can start learning about your specific needs. Give us a call at 800-779-8099 or email us at sales@sidedump.com.
---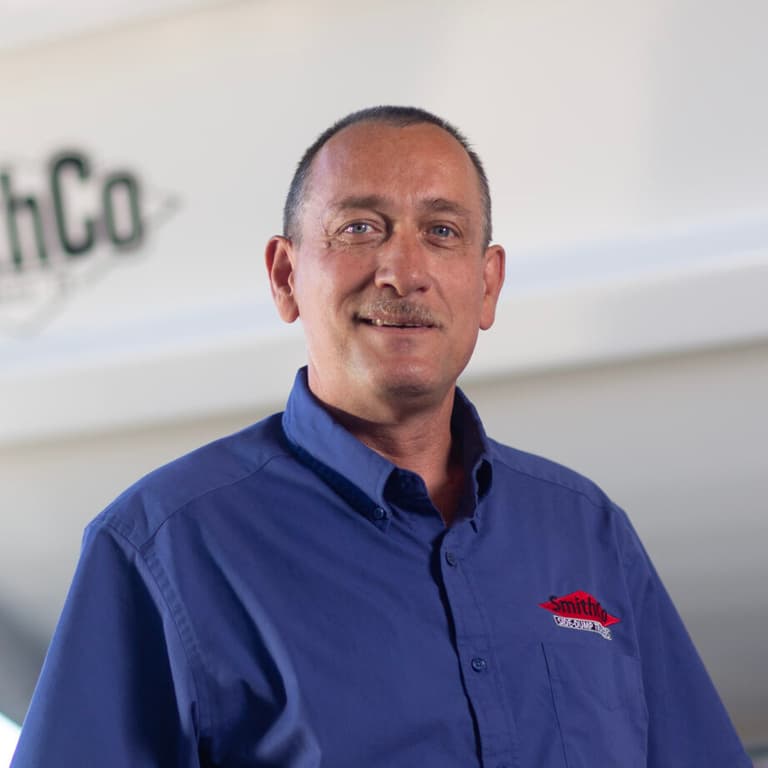 Blog Author
Duane Myears
District Sales Manager
Duane Myears is a District Sales Manager for SmithCo. He has extensive experience in the transportation industry working with rail car for eleven years prior to joining SmithCo where he has held a range of supervisory and management positions including Production, Quality Control and Warranty. For nearly 20 years, he has been a leader every step of the way. Away from work, you may catch up with him fishing or following NASCAR.