There are many things that set SmithCo apart from other side dump manufacturers. One important thing is the quality and experience of our workforce. No company has engineered or produced more side dump trailers than SmithCo – period. Our engineering capabilities, manufacturing processes and our commitment to quality are other things that I feel set us apart from the competition. But I believe the biggest and most important thing that sets us apart is our willingness to listen to the customer. SmithCo has always been customer-focused. We don't just manufacture and sell side dump trailers. Our job is to provide our customers with the exact trailer they need to solve their hauling issues and help them achieve maximum profits.

This means that we have to listen to them. The proof that we do this is evident in the various trailer models we offer. The competition pretty much offers only one type of side dump trailer in different axle configurations. Due to our willingness to listen to a customer's needs—and solve those needs—we have been able to design and sell multiple types of side dump trailers for many different applications.My vision for SmithCo is for us to continue to lead the industry in design, quality and innovation. SmithCo has always been at the forefront in these areas and we fully intend to stay there. We are actively working on opening up new markets to the side dump concept. I see tremendous growth potential as we actively pursue these new market opportunities.
A Day in the Life
Typically, I arrive at the office around 6:30 a.m. The first thing I do is get caught up on emails before going out onto the production floor. This is one of my favorite parts of my day—I really enjoy going out and talking with all our employees. I make a point to ask them about not just their job but their personal lives as well. The connection I have with our employees is important because, at the end of the day, they are the reason we've been successful.
Next, I'll walk through the facility and examine how the plant is running overall. This is a byproduct from my days as Plant and Operations Manager. I'll take notes on things I see that may need to be addressed and give them to our Production Manager or Department Supervisors. It takes a village, after all.
The rest of my day is usually filled with meetings and conference calls. Since serving as President and CEO this past March, I've found it to be quite different than my previous role as Operations Manager. As manager, I worked inthe business. As CEO, I work onthe business. Much of my time is spent planning and charting next steps as it relates to our strategic plan.
Our Emphasis on Putting the Customer First
As I've mentioned, one of SmithCo's keys to success in the side dump trailer industry has been putting our customers first. In my time here, it's always been emphasized. For example, I've seen a customer pick up a new trailer and encounter a mechanical issue with their tractor. Our repair shop didn't hesitate to help fix the issue free of charge.
No company is perfect and SmithCo is no different. But it's in the way that we address mistakes that I believe makes us a great company. There was an instance where we painted a new trailer the wrong color. To make it right, we titled and licensed the trailer in our name and gave it to the customer to use while we built them a new trailer with the correct paint color. I'm quite proud of those customer interactions.
Anyone that does business with SmithCo—both dealers and end users—can expect to be heard by us. No matter what type of haul they need a trailer to be suited for, we make sure they come away with a trailer that will achieve maximum results for them. We ask the right questions and ensure the side dump trailer is designed to maximize payloads in the state or area the customer does business.
SmithCo is a Family, After All.
For the past 19 years that I've been at SmithCo, the most rewarding aspect has been about the relationships I've developed along the way. I've watched numerous employees literally grow up before my eyes. They came to work at SmithCo as kids and now they have families of their own. These relationships are emblematic of what is at the heart of our company mission statement: to provide a secure future for our employees and their families.
---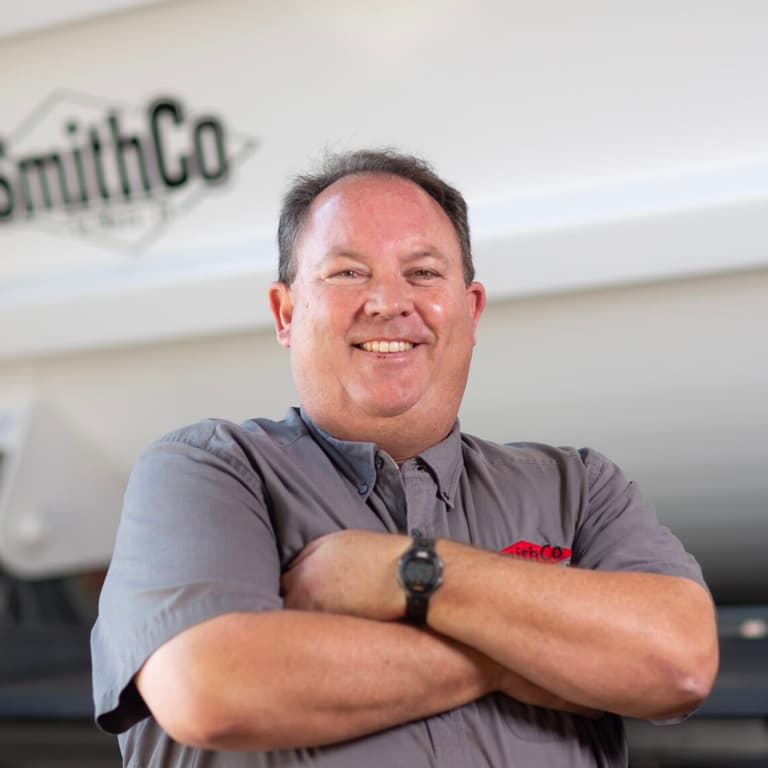 Blog Author
Scott Lovell
President and CEO
As President and CEO, Scott Lovell brings 20+ years of experience with SmithCo to lead the team as they design and produce the best, most versatile side dump trailers available in the world. With a degree in Education and a Coaching Endorsement from the University of Iowa in 1992, he began his career teaching and then became Program Director at the local YMCA while also coaching football and track at Keokuk High School. Then he pivoted into manufacturing through HR and Purchasing by joining SmithCo as Human Resources Manager in 2000. When he's not guiding the industry leader in side dump trailers, you can find Scott coaching his son's pee-wee football team. He's also a die-hard Iowa Hawkeyes fan.