The trucking and trailer industry is always changing and adapting to the world around us. That has become all the more clear as we see the end of COVID-19. Here are what we think are the key side dump trailer trends for 2021.
Side Dump Trailer Trends in 2021
We have seen a trend of the larger fleet customers transition to brokering work to individual owner/operators. This helps to hold a fixed cost to the material hauling. We have seen more and more first-time side dump owners ordering a 2nd and 3rd trailer to keep up with demand. While large fleet owners tend to stick to their main use for the trailers, individual owners are finding that a side dump is multi-use for a variety of products. They are growing their businesses around the fact that they can haul virtually any product with one trailer.
Changes During and After the Pandemic
I'm not sure the pandemic has changed the trailer industry as a whole. I'm sure that how trailer manufacturers do business (e.g. hold meetings, attend shows, train employees, etc.) has changed due to the pandemic, but building trailers is still pretty much the same. I think the use of online meeting platforms (Zoom, Webex, Microsoft Teams, etc.) will become a larger part of how companies function going forward, especially when you consider the added cost of travel.
From SmithCo's perspective, I think that the pandemic has reinforced our longstanding belief that our employees' welfare is what's most important. Throughout 2020, we saw many employees go through some difficult situations related to the pandemic. We were able to come alongside them and help them get through these difficult times. We preach "Family" here, and 2020 gave SmithCo a greater opportunity to show our employees that "Family" is not just a word that we use, but it's what we are.
Side Dump Trailer Challenges in 2021
I think that SmithCo, and maybe other side dump trailer manufacturers could possibly have some issues in meeting demand for 2021. SmithCo was having a very good year before the pandemic. The pandemic reduced our sales and now there seems to be a lot of "pent up" demand, which is a good thing. First-quarter orders for 2021 are extremely good and we are working to increase production capacity to meet the needs of our customers.
Another challenge will be in managing our supply chain and doing everything to control our costs. Prices for steel and other components have already risen. The challenge will be to manage these input costs so that we aren't forced to pass on those higher costs to our customers. We are actively engaged with our employees in ways to be more efficient and good stewards of our resources.
Recruiting and retaining employees will continue to be a challenge in 2021, especially as the economy gets going again, and the available labor pool begins to shrink.
How Technology Will Shape What People Can Do With Their Trailers
The use of Bluetooth and remote controls is increasing in popularity. These options allow the truck owner to not need to install switches in his cab to operate the trailer. Operators can access trailer functions (tub dump, tarp, lift axle, etc.) via their smartphone or a remote transmitter.
Trends in Trailer Customization
As stated above, more and more customers are ordering their trailers with remote capabilities. Other customizations we are seeing relate to axle type. Many customers are choosing to order their trailers with disc brake axles instead of drum brake axles, for increased efficiency. Custom light packages are also becoming more popular. Clear lens LED lights and multiple lights down the side of the frame and at the rear of the trailer are gaining popularity. We also continue to see many customers require custom colors for their trailers. Matching trailer color with the truck seems to be important to many customers.
We are also experiencing an increase in requests for custom applications of our trailers. Customers are wanting to be versatile in what they can haul. They need to haul many different types of materials, so they are looking for options on their side dumps that increase the versatility of the trailer, such as being able to increase the capacity of their trailer as the need arises with features like sideboard extensions and different tarp systems.
What SmithCo is Looking Forward to in 2021
We're really looking forward to getting back to some sense of normalcy in 2021. Our employees have done an outstanding job with all of the COVID-19 protocols that were put in place in 2020. We're looking forward to the day when we don't have to wear masks in the building and when we can once again have company luncheons/outings without having to adhere to COVID-19 restrictions and guidelines.
We're also looking forward to the expected growth that we've worked so hard to achieve. During the downturn in 2020, we made a commitment to follow through with our growth strategy and did not reduce our efforts in this area. We believe the work that has been done will pay off in opening up new areas and markets to the side dump concept.
2021 will undoubtedly have its own set of challenges, and we will work hard to meet those challenges just as we did in 2020.
Want to know more about how SmithCo can help you or your dealer find the right trailer to meet your needs in 2021 and beyond? Get in touch, and we can start learning about your specific needs. Give us a call at 800-779-8099 or email us at sales@sidedump.com.
---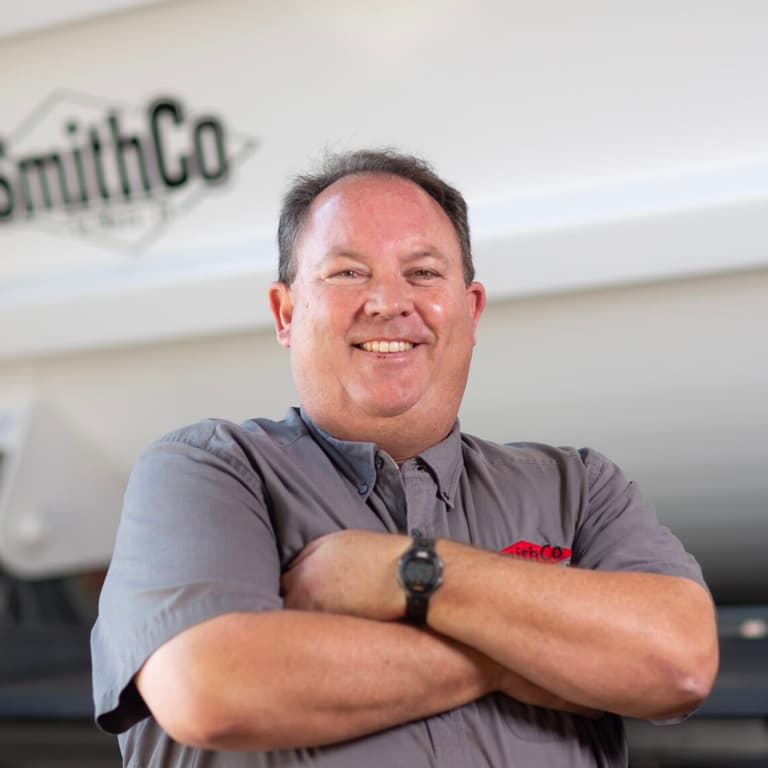 Blog Author
Scott Lovell
President and CEO
As President and CEO, Scott Lovell brings 20+ years of experience with SmithCo to lead the team as they design and produce the best, most versatile side dump trailers available in the world. With a degree in Education and a Coaching Endorsement from the University of Iowa in 1992, he began his career teaching and then became Program Director at the local YMCA while also coaching football and track at Keokuk High School. Then he pivoted into manufacturing through HR and Purchasing by joining SmithCo as Human Resources Manager in 2000. When he's not guiding the industry leader in side dump trailers, you can find Scott coaching his son's pee-wee football team. He's also a die-hard Iowa Hawkeyes fan.