Hinge points may not be the first thing you think of when you're shopping for trailers, but they are an important component of a side dump's stability and durability.
Hinge points are where the tub attaches to the frame and the point at which the tub pivots during the dump cycle. They carry all of the weight of the tub. With that in mind, a trailer's hinge points must be able to handle the weights being hauled and the conditions in which the trailer will find itself.
The locations of the hinge points are critical when considering the geometry of the tub's dump cycle. If the hinges are not located in the optimal position, the dump angle, stability, clean out and weight transfer of the trailer are affected.
While hinge point function is pretty much the same for all side dump trailer manufacturers, all manufacturers have different designs. SmithCo's hinge design has changed multiple times over the years as part of our continuous improvement mindset. The components that are used in our hinge points are rated far above what is required to ensure a long-lasting connection with minimal maintenance.
SmithCo Takes a Different Approach to Hinge Points
For over the road trailers that meet DOT bridge law formulas, some side dump manufacturers have started making trailers with 6 or 8 hinge points. Some do this to prevent the frame from deflecting too much during tight turns (scrubbing). Others install multiple hinges in order to take stresses off their tub corners.
While all of these can be valid reasons for a side dump manufacturer to install more than 4 hinges on a trailer, SmithCo takes a different approach. We prefer to design our trailers so that there is no need for more than 4 hinges on trailers that are capable of dumping to the driver or passenger side.
Why More Isn't Better When It Comes to Hinge Points
We keep our hinge points over the drive tires of the tractor and the main suspension group on the trailer. This gives our hinges the most stable platform possible and eliminates added stresses to the frame. If a trailer has hinge points in places besides those over-the-tractor drive tires and trailer suspension group, the weight on those additional hinge points must be supported solely by the frame beams (as there are no suspensions, axles or tires under these areas).
To make a frame capable of handling these stresses, the frame must be deeper (taller), and therefore, heavier. By manufacturing our trailers with only 4 hinge points, we can produce a lighter trailer. This means our customers can haul more payload.
Another reason we stick to four hinge points is that multiple hinges will limit the amount of flex the trailer frame can achieve as it travels over uneven ground and throughout the dump cycle. This could potentially cause stresses in critical areas such as the king pin and suspension areas. SmithCo's use of only four hinge points prevents frame point loading from occurring during travel.
Finally, more hinges equals more maintenance, which means more time in the shop and less time on the job.
Want to know more about how SmithCo can help you get the most durable, high-quality trailer? Get in touch, and we can start learning about your specific needs. Give us a call at 800-779-8099 or email us at sales@sidedump.com.
---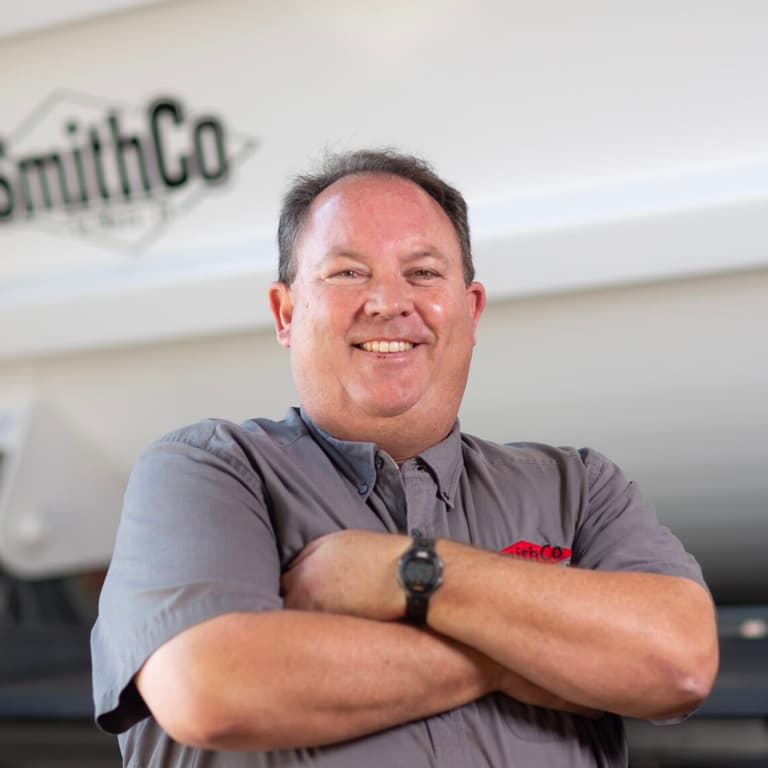 Blog Author
Scott Lovell
President and CEO
As President and CEO, Scott Lovell brings 20+ years of experience with SmithCo to lead the team as they design and produce the best, most versatile side dump trailers available in the world. With a degree in Education and a Coaching Endorsement from the University of Iowa in 1992, he began his career teaching and then became Program Director at the local YMCA while also coaching football and track at Keokuk High School. Then he pivoted into manufacturing through HR and Purchasing by joining SmithCo as Human Resources Manager in 2000. When he's not guiding the industry leader in side dump trailers, you can find Scott coaching his son's pee-wee football team. He's also a die-hard Iowa Hawkeyes fan.