At SmithCo we've learned a lot about how to build a side dump over the past three decades, which is why we now build the best in the industry. We like to think that SmithCo is an important part of side dump trailer history. The company began with Greg Smith, who owned a small trucking company. After experiencing costly tipping issues with his end dump trailers, he was told by his insurance agent to find another way to do his trucking or get out of the business. He set out to visit a small company in Oregon that built a side dump trailer and bought it. But he still needed to modify the side dump design further to suit his needs. This is how SmithCo was born.

Side Dump Design Through the Years
Side dump trailer design has changed dramatically over the years, not only in how the trailer looks but also how it functions. We've made significant investments in time and money in evaluating our trailer designs using Finite Element Analysis (FEA) and good old-fashioned field testing. We've studied what types of steel work best in a side dump application to give our trailers the strength and durability that our customers expect. SmithCo has always been at the forefront of side dump technology, and we're proud to be the leaders in new technologies, such as remote control, tarp systems, and hydraulic controls.
A History of Versatility
The first side dumps hauled aggregates and were used by construction companies and quarries. As SmithCo developed the side dump concept, designing and building different trailers, it quickly became apparent that this concept could work for many industries. Side dumps now work in agriculture, waste, mining, demolition, construction, and aggregate hauling.
Side dump trailers give operators the ability to buy one trailer that can fulfill a multitude of jobs. Before side dumps, there wasn't a trailer that could handle nearly every type of workload. Most dump trailers were designed for specific tasks and were often adapted to do jobs they weren't necessarily designed to do. End dumps were sometimes viewed as "throwaway" assets because it was an eventuality that the trailer would tip over and be a total loss. When the side dump came along, people quickly realized that there's almost nothing that a side dump can't haul safely and efficiently. Companies in the hauling industry can now bid multiple types of jobs and know that they have one trailer that can handle all of them.

How SmithCo Has Grown
From the very beginning, SmithCo has been a company that strived to do things the right way. This culture is evident in how we build our trailers and how we treat our customers and employees. We go the extra mile to make sure our trailers are better than any other side dump trailer and make sure we take care of our customers. Our employees know that we care about them as people, not just as staff members. We consider our company a family, and this mindset has been a focal point during any period of growth of SmithCo. Our employees take great pride in the trailers we build, and we, as a company, take great pride in our employees.
SmithCo is not the same company it was nearly 30 years ago. We've had to develop new processes and procedures to match our growth and ever-expanding trailer models. We've become more efficient and more dependent on technology to help us remain the market leader. Whether we are talking about engineering software or our ERP system, SmithCo has always been a company that isn't afraid to adapt to new technologies and systems to help us achieve our goals. We know that SmithCo will continue to change with the times, but our commitment to quality and customer service will never go away.
Want to know more about what SmithCo can do for your company? Get in touch, and let's get to work. Give us a call at 800-779-8099 or email us at sales@sidedump.com.
---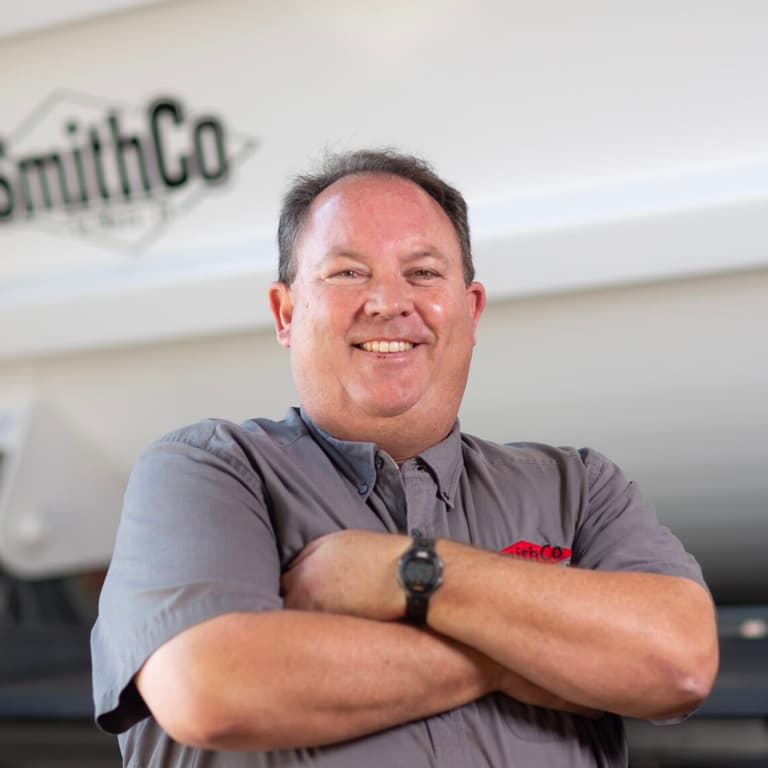 Blog Author
Scott Lovell
President and CEO
As President and CEO, Scott Lovell brings 20+ years of experience with SmithCo to lead the team as they design and produce the best, most versatile side dump trailers available in the world. With a degree in Education and a Coaching Endorsement from the University of Iowa in 1992, he began his career teaching and then became Program Director at the local YMCA while also coaching football and track at Keokuk High School. Then he pivoted into manufacturing through HR and Purchasing by joining SmithCo as Human Resources Manager in 2000. When he's not guiding the industry leader in side dump trailers, you can find Scott coaching his son's pee-wee football team. He's also a die-hard Iowa Hawkeyes fan.