Every SmithCo side dump trailer that rolls off the line is built with a dedication to quality and durability. Owners and operators can protect their investment with routine maintenance and repairs, ensuring that each trailer operates smoothly day in, day out for years to come.
Preventative Maintenance is Simple and Effective
Maintenance needs for SmithCo trailers will vary depending on the type of service the trailers are put into, how often they are used, and the conditions they are being used in. Regular maintenance will include wear parts such as brakes and tires and wheel bearings. Additionally, as the moving parts of the trailer wear, they should be replaced. These include the trailer kingpin, pivot pins and bushings, cylinder pins, and cylinders.
Just like the trailers themselves, the SmithCo maintenance program stands out among competitors. The SmithCo daily maintenance checklist (found in the operator manual and online in our Support section) is a guide to help the owner to get the most life out of their trailer. By adhering to this checklist every day, you will be sure the trailer is receiving the needed lubrication at the right points to operate efficiently.
The daily checklist also helps in finding a potential problem before it becomes a bigger issue. Regular daily inspections will let you see potential maintenance needs before they become a bigger problem. Just as with any equipment, regular washing of the trailer can help with your visual inspections and giving some time to look over the equipment.
Remote Greasing Banks Make Lubricating Easy
On every new trailer build, SmithCo offers remote greasing banks that make it much easier to lubricate the trailer. These remote greasing systems can also be retrofitted to most trailers already in the field. We have remote greasing available for cylinder pins, 5th wheel greasing, and even remote grease banks for suspension and brake system greasing. Some trailers have been built with auto-lubrication systems installed. With the cylinders on the ends of the tub and grease fittings installed on all pins, even without remote greasing, SmithCo trailers are easy to lubricate. Proper lubrication will greatly contribute to lower maintenance costs.
Different Maintenance Needs for Different Environments
Different operating environments and industry applications come with their own maintenance needs. Customers who operate off-road will have different maintenance needs than customers who run trailers on-highway. The needs of a customer who runs trailers in sub-arctic conditions will be much different for maintenance and lubrication than the needs of a customer running where the temperature never gets to freezing. Customers who run the trailer every day will also see a different maintenance schedule from a customer who runs the trailer once per week. The best thing a customer can do is be sure to conduct a pre-trip inspection and follow the daily maintenance schedule at the start of each day that the trailer will be running.
Dedicated to Quality and Service
SmithCo uses high-quality, name brand components from vendors who are well known in the trailer industry and who also have parts available from aftermarket sellers in most markets. The majority of maintenance questions we get are from customers looking for a part number or availability status of the commonly needed replacement parts such as brake shoes, wheel bearings, s-cams, airbags, suspension bushings, etc. We are happy to help with this information. In most cases (with the trailer VIN) we can get users an aftermarket part number for them to source locally, which helps to limit downtime. We do keep some of the common maintenance items in stock as well. In cases where special orders are needed, or parts are not available locally, we will work with you to get your proper maintenance and repair items identified and ordered.
As always, our priority at SmithCo is to do whatever we can to help you find parts and get your maintenance done quickly, minimizing downtime and getting your trailer back to work.
Recommended Daily Maintenance
1. Check tail and clearance lights to ensure operation
2. Grease fifth wheel plate and / or turntable
3. Check all hubs for proper oil level
4. Check all hubs for loose lug nuts
5. Check all tires for proper inflation
6. Check all tire valve stems for proper mounting
7. Inspect all air lines – there should be no sharp bends or pinched lines
8. Drain moisture from air tank(s)
9. Grease all cylinder pins & hinge / pivot pins or brackets
10. Grease camshaft, slack adjusters, and brake shoe pivots

Want to know more about how SmithCo can help you keep your side dump trailer running as smoothly as possible? Get in touch, and we can start learning about your specific needs. Give us a call at 800-779-8099 or email us at sales@sidedump.com.
---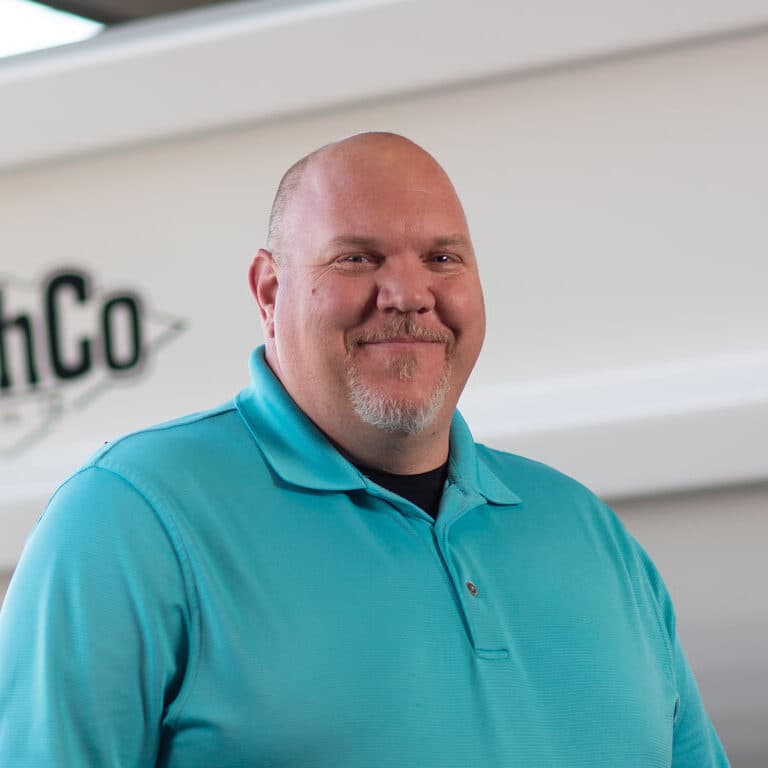 Blog Author
Chad Oldenkamp
Used Trailer Sales, Parts & Service
Chad has been working in the side dump trailer industry since its infancy in 1995. He started at SmithCo in 2006, starting out in parts sales before expanding to his managerial role blanketing parts and service, warranty, used trailer sales, purchase assist and customer support—a man of many hats! In his free time, he enjoys fishing, golfing, and spending time with his family and two English Bulldogs: Amos and Andy. An avid Nebraska Cornhusker fan, you can find him on fall Saturdays cheering on his football team.