Trailer manufacturers make a lot of promises about the durability and reliability of their products. But how do you know if the trailer will perform the way you need it, when you need it, day in and day out? How do you know if your trailer will retain a high resale value after years of use?
Trailer owners and operators need to feel confident in their equipment. That's why SmithCo engineering puts our trailers through rigorous testing before they ever leave the lot.
What do we test for?
| | | |
| --- | --- | --- |
| | | |
| | Air system pressures and timing | |
| | | Weight distribution per axle |
Investing in Innovative Testing

About two years ago, SmithCo started investing heavily in data acquisition equipment. Now we have a data logging system that is comparable to some testing labs at universities. This includes components like pressure transducers, string pots, inclinometers, flow meters, gyroscopes, and a set of Go-Pro cameras. This level of technology means our team can do extensive testing to measure just about everything, from hydraulic pressure and tub momentum to air system timing, tub rail deflection and frame lean and twist.
Once our trailers are hooked up to the testing equipment, the next step is to see how they perform in the real world. First, right on our site we do testing of the conditions our trailers face out in the field with rock, gravel, and dirt. We load up trailers, and in some cases even intentionally overload them, to see how everything reacts. Then we run about two dozen loads a day, logging that information using our data acquisition equipment to analyze later. We can also overlay our Go-Pro footage with real-time pressure, stroke, and angle readings to stitch together a complete picture of how all the systems are reacting and working together during the dump cycle.
After that, we make sure the trailer can reliably get to and from the job site. We leave our testing equipment hooked up and drive the trailer around the yard or down the highway to get over-the road data. This helps us understand how the suspension and frame react to corners and job site conditions in real life.
Real-World Testing Data for the Whole Fleet
We have also been able to use the real-world testing data to create mathematical models and relationships specific to our trailers, which can be used on other trailer configurations and models. One example of this is our hydraulic and air systems. Many of the principles and relationships we find for hydraulic pressures vs. load vs. starting forces can be transferred across different tub or trailer types and simply adjusted for differences. We take test data from our driving and dumping tests and replicate everything in our on-site testing bay by building a simulated pneumatic circuit. This allows us to test multiple valves and configurations so we can compare how different suppliers' products function. The lab testing saves time and money by not having to use a truck, trailer, and loader to test all the configurations we have available for our customers.
Occasionally, we will take things a step further and take a trailer to a customer's job site for field testing. This gives us a chance to see how the trailer works in various environments that we can't always replicate. In this case, we get the added benefit of customer feedback on what they like or didn't like for different models.
Avoiding Analysis Paralysis with Trailer Data
What we test really depends on what we want to look for. Sometimes we are concentrating on hydraulics and sometimes air systems. Other times we might be looking at suspension and frame data or tub momentum and movement. No matter what, we start with a baseline setting and change only one variable at a time so we can identify what made the difference. To avoid what I call "analysis paralysis," where you get lost in looking at too much data and lose focus, we always plan out our testing goals ahead of time. This helps us make sure that on testing day we get all the samples we need to.
Trailer Troubleshooting
If our real-world test data doesn't back up our Finite Element Analysis or trailer system calculations (which is rare, but it does happen), the first thing we do is review the trailer to make sure everything was built and installed correctly. If everything on the trailer looks right, we then dive into the computer modeling simulation data to see if we had some settings off. In most cases, our calculations are confirmed by real-world testing.
This process allows us to pinpoint the exact issue and think of a likely solution. For example, a while back a customer brought us a "problem trailer." Our testing showed odd results in the hydraulic system. That led us to take the system apart, where we found debris stuck in one of the hydraulic valves. We removed the debris and the trailer worked as intended.
No Comparison to SmithCo Trailer Testing
When it comes to trailer testing, there's no comparison to SmithCo. We have had some of our product vendors on site during our testing and they have told us they are very impressed by what we do, because not many side dump manufacturers put the effort into testing that SmithCo does. That's one of the ways we know we're building the best side dump trailers in the world. And that means you know you can trust the reliability, durability and the eventual resale value of your SmithCo trailer for years to come.
Want to know more about which of our time-tested trailers is right for you? Get in touch with our knowledgeable sales team, and we can start learning about your specific needs. Give us a call at 800-779-8099 or email us at sales@sidedump.com.
---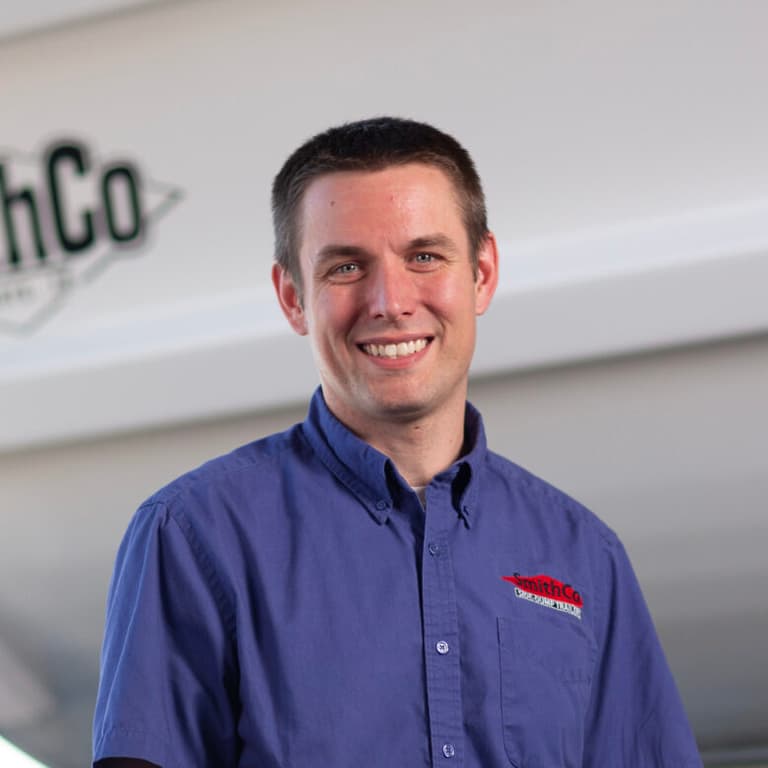 Blog Author
Dan Dohman
Engineering Manager
Dan Dohman leads the SmithCo Engineering group. Prior to joining our team in 2018, he held a wide range of engineering responsibilities including quality and manufacturing engineering, R&D and product development. Dan holds a Bachelor of Science in Mechanical Engineering from South Dakota State University. For over 13 years, he has brought a keen understanding of matching customer needs to innovative engineering solutions. When not at his desk, Dan enjoys spending time with his wife and two young sons, leading Bible studies, exercising and going to dirt track races.