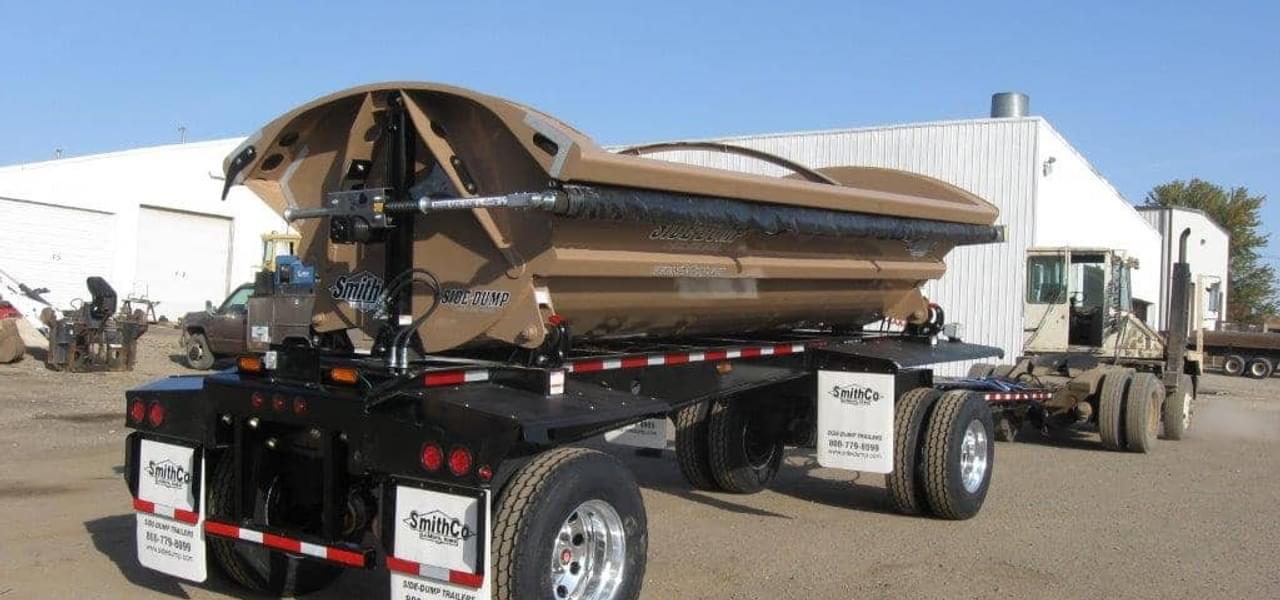 SmithCo works hand in hand with customers to make sure we're giving them the right trailer for their needs. As part of the process, there are a number of choices that customers need to make to ensure their side dump trailer is the best possible fit for the job. This article series explains what customers should take into consideration when specing their trailer. See the series here.

Choosing a side dump trailer and specific tub style is the first of several key decisions you'll make in your order, and SmithCo is here to help. When we get an initial inquiry from a customer who is interested in a side dump trailer, these are our first questions:
Where will you be hauling?
Many operators take their trailers across state lines on a regular basis. We start with this question to ensure that we deliver a trailer that is compliant with bridge laws in states where the trailer will be traveling. We make sure our customers are informed of the capabilities of their trailer in each state in which they'll be operating.
What type of material will you most often be hauling in your trailer?
This question helps us zero in on the right tub style. Tubs that are well suited for aggregate hauling include the SX Series, the Medium High Volume (MHVSR), the Super High Volume (SHV), or a custom design. The MHVSR and SHV also do well for agricultural applications like hauling manure or distillers grain. The examples could go on and on; see our Industries section for more specifics and recommendations on what our trailers are capable of hauling.
Is your goal for your trailer to reach the maximum gross vehicle weight in your state, or is maneuverability more of a priority?
Of course, operators who are paid by the ton want a trailer that can haul the maximum load. This typically leads us to look at a higher axle count and a longer trailer. As part of this discussion, we often have customers ask about ways to minimize the weight of the trailer itself so they can maximize their payload.
One specific question we receive is whether we can build the tub from aluminum. While aluminum tubs are common on end dump trailers and some bottom dumps, you will not find an aluminum tub from SmithCo. It simply isn't durable enough in a side dump application to meet our standards.
While we don't offer aluminum, we do have some options in steel thickness to minimize a trailer's weight. The specifics depend on the tub style and trailer model; for example, we can use 1/8" thick steel on an SHV tub, or 3/16" for an aggregate trailer that doesn't haul large aggregate. We're always happy to talk through your specific needs to make the best recommendation. (For additional weight saving considerations, see our article on Tires and Wheels.)
Customers who are not necessarily concerned about maximizing payloads, such as those who haul by the load, often prioritize maneuverability and ease of getting around on the job site. In this case, we recommend a shorter trailer with fewer axles.
Setting You Up for Success
As you can tell, selecting the right trailer and tub style is an interactive process at SmithCo. We want our customers to be successful, so we take the time to understand your needs and applications when we create your order. By getting these decisions right, we can deliver a trailer that will serve you well for many years to come. Interested in seeing how a SmithCo side dump could work for you? Give us a call at 800-779-8099 or get in touch on our contact page.