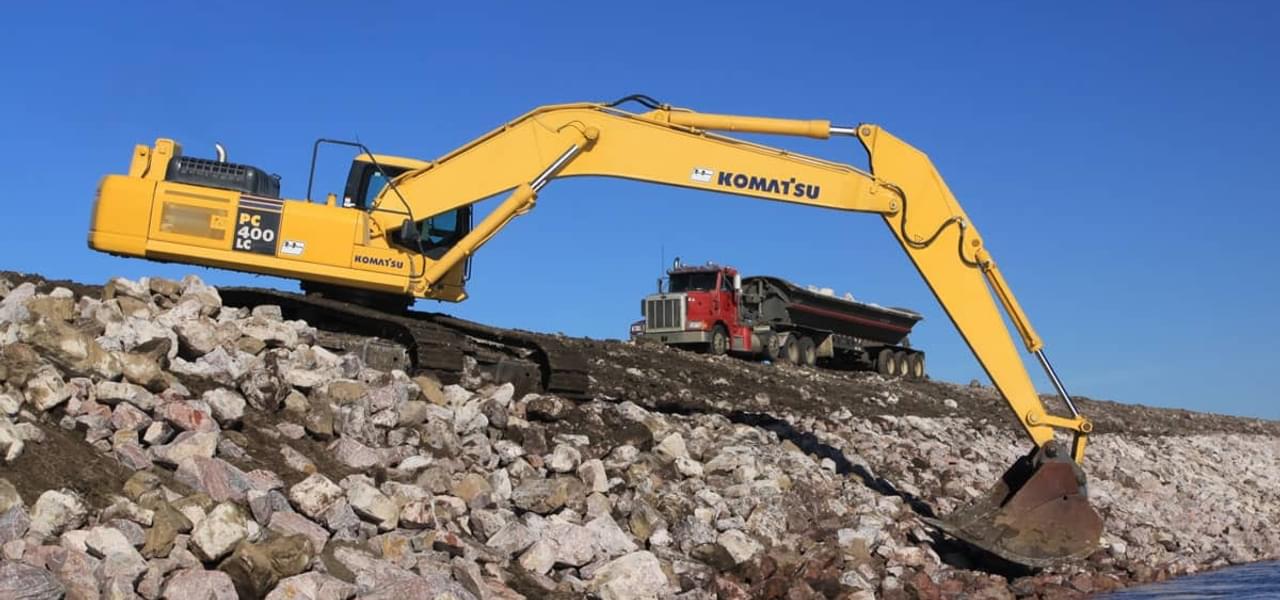 For nearly 30 years, SmithCo has been designing and producing innovative side dump construction trailers for a variety of industries and specific applications. Our construction customers primarily work in the civil engineering and roadwork sectors. We also handle the needs of commercial and residential construction customers as well.
Side Dump Construction Trailers Reduce Costs
The outlook for the construction industry is generally positive even amid global market uncertainty. Even so, challenges persist. Dealers are preparing for smaller margins and slower growth. Our end-use customers are seeking ways to be much more efficient with personnel and equipment as they look to manage costs. Finding experienced workers, especially truck drivers, is a continual issue. Safety is always a large factor in construction.
SmithCo is helping dealers and customers navigate these challenges. Dealers find that carrying the best quality, competitively priced construction trailers supported by our experienced, dedicated staff makes the sales process seamless. In a recent survey among SmithCo dealers, our company outperformed dealer needs in nearly every category. When customers weigh in, they say the ability to haul a wide range of material in the same trailer is a big plus. Because our side dumps are so versatile, the same equipment and the same drivers can handle material throughout the entire job. Our side dumps can do it all—from material produced during the deconstruction phase, and the material needed for the site development phase to the final landscaping phase. Having less equipment on hand results in fewer maintenance issues and lowers operating costs.
SmithCo Side Dump Saves the Day
Another advantage of a side dump construction trailer is in the name: dumping to the side. This provides efficiency that end-dump trailers cannot match.
When an Illinois contractor was given the large assignment to reface the inside of an earthen dam with riprap, he began the project using an end-dump trailer, the common trailer in that region. This meant that the payload would be dumped on top of rather than inside of the dam. Excavators and wheel loaders would then move the material before another truck could dump its load, which caused delays. When the contractor was looking for a more efficient way to get the job done, they turned to SmithCo. With SmithCo side dumps, they could dump the material inside of the dam. This allowed for smooth, uninterrupted delivery of subsequent riprap loads. There was no second handling of the material; it was already in the required location. Excavators merely raked it to the required depth. Side dumps allowed the project to run with ease.
The Popular SX Series Construction Trailers
Our SX series side dump is our most predominant construction trailer and offers numerous axle configurations. This series is incredibly efficient due to its one-piece round bottom tub. It releases the load automatically without the build-up associated with a flat bottom or wedge style trailer. These trailers dump cleanly and there is no need to bring the tub back through a just-dumped load.
In addition to our standard construction trailers, we engineer custom trailers to meet specific needs. We often produce specific axle configurations to meet state bridge laws in order to maximize payload. We also can use components that our customers already use on existing equipment, such as axles, suspensions, tires, and wheels. This keeps inventory on replacement parts to a minimum. SmithCo also customizes lighting and paint colors to meet company visual identity standards.
Throughout all of our work, SmithCo respects our planet. Our side dump trailers are watertight. When hazardous or questionable materials need to be transported, trailers can be outfitted with a sealed tarp system to contain the contents. This allows for safe handling of the load. This capability makes hauling fine dusty materials possible too.
Contact us at 712-541-1585 to learn how SmithCo side dump trailers can help you.