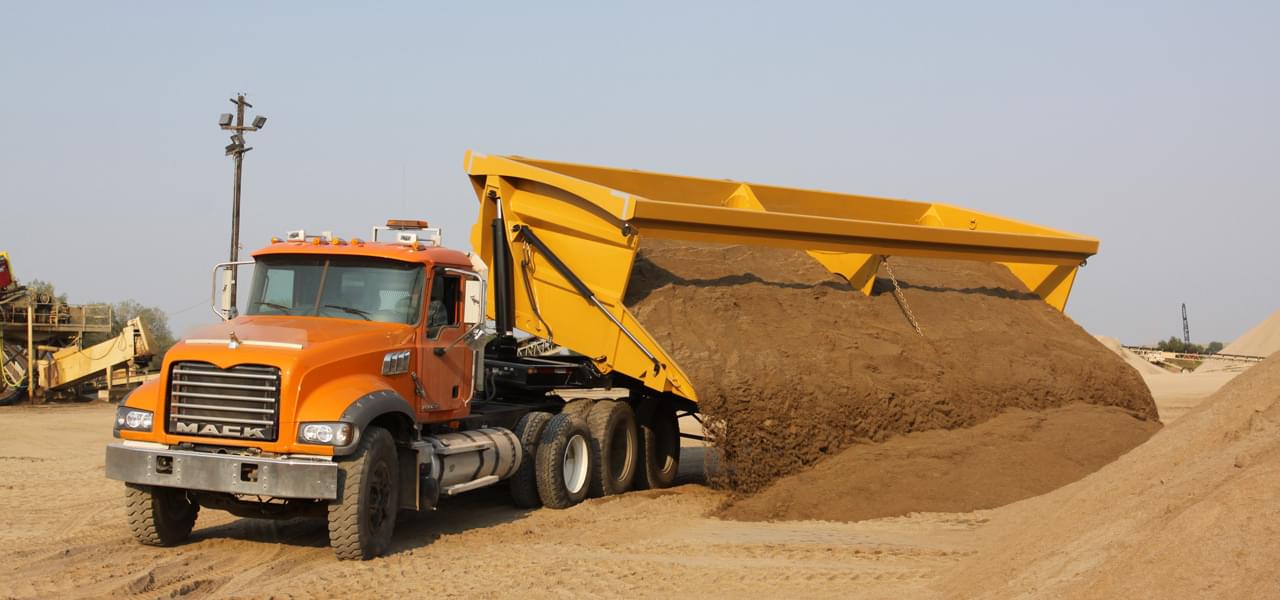 When it comes to versatility in material hauling, a side dump trailer is second-to-none. There are virtually no limitations on the types of material SmithCo side dumps can haul. From fine sand to large boulders, waste sludge to silage—the field of side dump materials is vast. If you can get the material in the tub, you can haul it.
Fewer Limitations than End Dump Trailers
The typical headaches associated with material hauling using traditional end dump trailers are not a problem with side dump trailers. Bulky material doesn't bunch up and wedge into the back of the trailer, which can create an unstable situation. There's also no need to back up to job sites—no matter the material, you're looking at a dump-and-go situation.
Semi-Liquid and Fine Materials—Yep, a Side Dump Will Haul 'Em
Thanks to our watertight tub design, when hauling waste sludge out of processing facilities or manure from animal confinements, the load won't leak out on worksite drives or the public roadway. Fine materials such as ag lime and frac sand are fully contained and do not blow out during transport when fitted with a sealed tarp system. There is no end-gate to try to keep sealed.
Durable Construction for Aggressive Materials
Not only are side dump trailers more efficient and versatile, but they can also withstand even the most aggressive material. SmithCo tubs are manufactured with AR450 steel. This material offers the wear resistance and impact resistance required in aggregate hauling. Unlike an end dump, our trailers do not require a UHMW liner to prolong the lifespan of the body.
A key element in the durability of our side dump trailers is the engineering behind the unloading process. The material being hauled starts to shed off the top during the dump cycle. Two-thirds of the load comes off before the remainder slides off the tub side. That means there is less weight to the remaining load, which means less wear on the tub material.
30-Second Dump Cycles

Side dump trailers increase the efficiency of the material hauling process—plain and simple. And with SmithCo in particular, our 30-second dump cycle means you've got more time for more loads. You can place nearly any material exactly where you want with the convenient option of choosing whether to dump on the roadside or curbside of the trailer. You can stockpile or windrow based on the need of the job site.
Stable & Safe
All the hauling capabilities in the world won't do any good if your trailer won't dump safely. At SmithCo, safety is always a priority. That's why we engineer every one of our side dump trailers for maximum driver safety. All operations can be done from inside the cab—there's no need to get out of the truck. That way you can focus on maximizing your material hauling efficiency while maintaining driver safety. If you're interested in maximizing material hauling versatility while also ensuring a safe dump every time, a side dump trailer is the solution for you.
Compatible Materials for Side Dump Trailers
Fine materials
Fine sand
✔
Ag lime
✔
Frac sand
✔
Silage
✔
Semi-liquid materials
Waste sludge
✔
Manure
✔
Aggressive materials
Large boulders
✔
Construction aggregate
✔
Bulky materials
✔