SmithCo Side Dump Trailers is an industry leader because of the hard work of our knowledgeable and dedicated employees. Our "Meet the Team" series spotlights members of our staff who help SmithCo continue to be the best in our field. Today, we share insights from Gerred Zeising, District Sales Manager.
I have been with SmithCo since February 2019. It is hard to say when I initially became interested in this position but living around the Midwest, everyone knows about SmithCo. During my twenty minute drive to and from work, it isn't unusual to pass by one or two dozen SmithCo trailers. Working for a company that is such a huge part of the community I grew up in is very rewarding.

I have been in sales since I left the military almost 10 years ago. I have worked in a variety of industries including industrial flooring, telecom, and banking. At SmithCo, I am a District Sales Manager. I cover the Southeastern US which includes 26 states, spanning from Texas to Maine.

Selling Trailers at SmithCo
For me, a normal day at SmithCo can involve many things. It might involve customer service, sales calls, scheduling shipments, collaborating with our engineering team on a new trailer design, market research, customer outreach, searching for new potential dealerships, the list goes on and on.

As a joke, I would say my biggest challenge is trying to remember 26 states worth of bridge law, but realistically the main challenge I take on is expanding the markets we haven't had much of a presence in yet. These are primarily located on the east coast. When SmithCo really got rolling 26 years ago, our attention turned to the west, as our trailers gained popularity very quickly in states like Utah, Colorado, California, Nevada, and Idaho. Focusing on the designs and accommodations those states required took up most of our attention for quite a while. Now, as we have grown and are looking to expand further, our goal is to help customers on the east coast enjoy that same value in our products that our western customers do.

The most rewarding part of my work is when I encounter a customer that utilizes all the tools we bring to the table here at SmithCo. Whether it's thinking outside of the box, researching unique bridge laws or axle configurations, designing something new, or getting asked the question, "What if it could do this?"–these challenges always excite me.

Why Work at SmithCo
This place sings with the passion for the work we do day in and day out. The amount of attention to detail we incorporate into every phone call, every trailer that rolls out of the plant, and every part order that ships out is astonishing. Prior to learning what makes this place tick, I was convinced this method of doing business was extinct. The relationships here between coworkers are second to none. It sounds quite cliché, but it is literally like having a second family. It is an honor to say I am a part of this team.

Living in the vicinity of Le Mars Iowa, it is easy to think you know what SmithCo does. However, actually working with SmithCo has shown me how a company in small town Iowa can impact areas and industries around the world. I was blown away when I learned about the different applications for our trailers.

Outside of work, I am pretty easy to please. I love grilling and fishing. However, I am notorious for being a workaholic. My phone is always on and I will answer it mid-burger flip or mid-cast. My girlfriend will attest that she can tell when I am on the phone with a customer, even from a different room of the house, because I love what I do.
---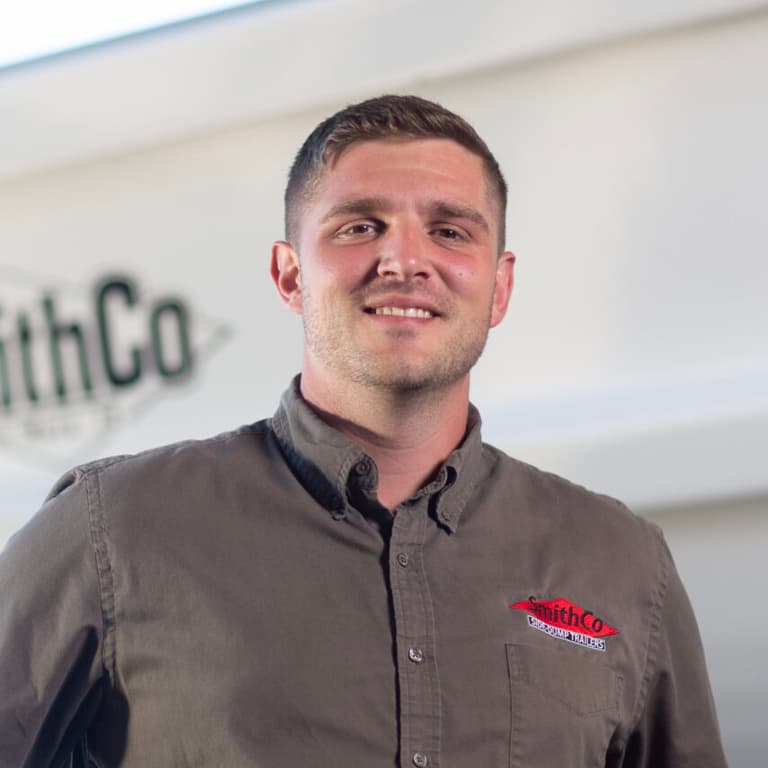 Blog Author
Gerred Zeising
District Sales Manager
As District Sales Manager, Gerred brings energy and forward thinking to the SmithCo team. Prior to joining SmithCo in 2019, he served his country in the Air Force where he was a fuel systems technician. From there, he excelled in roles for a flooring manufacturer, Verizon Wireless, and a small business marketing firm. When he's not selling the best side dump trailers on the market, you can find him with a fishing pole in his hand if the weather suits. Gerred also loves to grill—if it can fit, he can cook it better than you can.